Alan Scott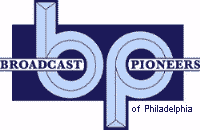 When Alexander Schwartz was a new teacher at Philadelphia's Blaine Elementary School, radio was the era's cutting edge technology. With a sense of vision that would characterize his later career, he arranged for members of his class to do a series of dramatic readings on WCAU radio. Stan Lee Broza (our first President), who was the program director of the station saw promise in Schwartz's sophisticated and articulate manner and offered him a job, at significantly more money than a teacher's salary.
Dr. Leon Levy (a member for years of our Broad of Governors, now the Board of Directors), president of the station and later to be a director of CBS, agreed with Broza. "If we hadn't found him, someone else would have," he said. "He was that good." The year was 1931.
At a time when ethnicity was something to hide, Broza changed Schwartz's name to Alan Scott, a name that would someday be a household word in Philadelphia.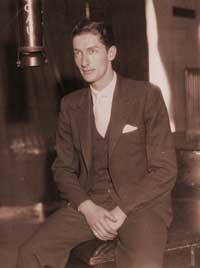 In the late 1920s and early 30s, radio was still finding its own way. Everything was done live. Scott was plunged into work that required him to be newsman, commentator, weatherman, host, disc jockey, and sportscaster. Sports events had to be relayed from the stadiums to the studio, and Scott found a way to simulate the type of play-by-play commentary that we now take so much for granted.
But it was commentary where Scott was in his element. His politically progressive messages struck a cord with his listeners, but often angered those who were the targets of his acerbic eloquence. He was instrumental in getting city workers covered by medical insurance, another part of modern life that we take for granted. Several times Scott found himself at odds with those in authority. Then Mayor S. David Wilson once threatened to have Scott arrested on some charges that were never explained. Once, in the late 1930s, Scott complained about the quality and safety of the city's drinking water.
"It's a disgrace and it's dangerous," he said in a broadcast. "And that's how it will remain unless you demand that something be done about it."
The response was so powerful that the city's postal service contacted him, begging him to tell his listeners to stop their letter-writing campaign to City Hall. They weren't able to handle the volume.
"Certainly it was the all-time record number of letters in response to either a radio or TV broadcast in Philadelphia," said legendary anchorman (and Broadcast Pioneers member) John Facenda. "Only someone with Scotty's magnetism could have brought it off." Broadcast Pioneers of Philadelphia member Harry Harris, well known columnist for the Evening Bulletin and the Philadelphia Inquirer said that he worked with Alan while he (Harry) was attending Temple University in the late thirties. Neither the station nor Scott paid Harris. He was sort of a pioneer for today's "interns." Harry and Alan co-wrote a script or two for Horace Heidt's radio programs carried over the CBS Radio Network.
"He was instrumental in my getting into the business," Facenda continued. "He was my adviser throughout my career, and no matter how difficult things might become, Scotty was always there to hold my hand. He had class and grace, and he doubtless was one of the finest all-around talents broadcasting has ever known."
In the early 1940s Carol Irwin, producer of the famous "I Remember Mama," was impressed with Scott's talent and offered him a job in Chicago. It was there, while he was doing an afternoon quiz show, that Scott met his wife, Maralene Bielen. The two married after the outbreak of World War II, after Scott was appointed Deputy Director of Civil Defense with his enlistment in the Navy.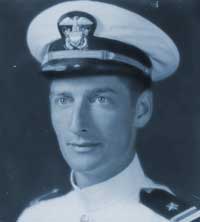 Scott served for four years, mostly in the South Pacific as a lieutenant commander and communications officer. Scott was present at the surrender of the Japanese, broadcasting the ceremony live to American forces in the region.
After the war, Scott was the host for a Mutual Broadcasting radio network program, "Once Over Lightly." Recognizing the potential of the emerging medium, Alan hosted "Television Screen Magazine" for NBC. Television in its early days, like radio, was live.
Scott, his wife, and new son returned to Philadelphia in 1948. In that same year, "The Local Televiser," a forerunner of TV Guide said "...Scott, long a Philadelphia radio favorite, is bobbing up in the living room through television more than any other local personality. Scotty seems to be the busiest young man in the local picture."
When WCAU-TV came on the air in early 1948, Scott moved from WCAU Radio to its TV station. He anchored their evening newscast and hosted their 1948 election coverage, part of which was carried over the CBS-TV network. Besides doing his WCAU Radio and TV work, in 1948, he was also featured regularly on "Philadelphia's Outstanding Women," carried over WPTZ, Channel 3 on Monday evenings from 9:30 to 9:45 pm. He was also on WPTZ on Saturdays just before Penn football. He had a 15 minute pre-game show called "Between the Goal Posts."
His popularity was enormous. While he was hosting the show "Cinderella Weekend," a radio version of "Queen for a Day," Scott was cited as the first television personality in America to have achieved 1,000 performances on camera. In addition to "Cinderella Weekend" five days a week, Scott was also doing five newscasts weekly, and another game show three days out of seven.
He continued to host "Cinderella Weekend" until he left WCAU in the Spring of 1954. Alan hosted both the radio and TV versions of "Cinderella Weekend," Monday through Friday. At the same time, on Saturdays (from a listing dated Saturday, December 29, 1951) he hosted a 15 minute newscast on WCAU-TV from 6:45 to 7 pm. In November of 1948, "The Bulletin Television News" was a 10 minute newscast on Channel 10 from 6:50 to 7 pm (Monday through Saturday), hosted by Alan Scott. At that time, the TV version of "Cinderella Weekend" was part of a WCAU-TV hour long broadcast called "Homemakers' Matinee" on from 2 to 3 pm. A completely separate radio version of "Cinderella Weekend" aired on WCAU Radio.
In 1954, Scott took over George Skinner's show "Let Skinner Do It" on Channel 3. At that time Skinner hosted "Let Skinner Do It" and "Skinner's Spotlight." George went on to New York City and Scott was his replacement. The shows were retitled, "Let Scott Do it" (daily from 9 am to 10 am) and Scott's Spotlight," weekdays from 2 pm until 2:30.
He and actor Joe Earley, who played the mechanical man Mr. Rivets, wrote all the scripts for the hour-long shows, which were on the air five days a week. The program drew an average of 3,000 letters a week to the station.
On Wednesday, April 21, 1954 at 7 pm, there was a special WPTZ, Channel 3 night at the Center City location of the Gimbel Brothers Department Store. On hand were Rex Trailer, Pete Boyle, Jack Pyle, Alan Scott and Joe Earley as Mr. Rivets. Admission was free and it was a fundraising event for local charity.
On December 24, 1956, some interesting things were happening at Channel 3. Stan Lee Broza, had come over from a lifetime career at WCAU to be Program Director of WRCV-TV. He continued to host the Children's Hour on WCAU Radio and TV. (Sounds like there might have been a conflict of interest there). The long running "Let Scott Do It" with Alan Scott, Broadcast Pioneers member Jane King and Mr. Rivets, portrayed by legend Joe Earley (also a member of the Broadcast Pioneers), was dumped and replaced by a weird 35 minute disc jockey show entitled "Let Scott Play It," (daily from 8:55 am to 9:30 am) with Scott playing records. It might have been a weak attempt to capitalize on the popularity of the local WFIL-TV program, "Bandstand."
Fun House was moved from 6 pm (then against "Starr Theater" since October of 1955) to 5:30 pm. Fun House would then be finished before Sally Starr's program of half-hour western shows like "The Lone Ranger" hit the air. About a month later, Pete Boyle announced he was leaving the show because of the earlier time period. (It's possible that Pete was forced out). On Monday, February 4, 1957, Alan Scott took over a "permanent" host. He was still doing "Let Scott Play It" in the mornings.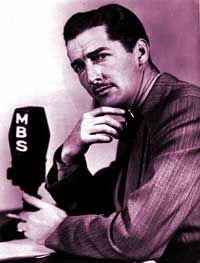 Five days later, both shows were gone and he resurfaced shortly afterwards doing the station's weathercasting on the weekends. Lee Dexter and his Bertie the Bunyip gang took over the kids' early evening show on February 11, 1957. Press Releases said that Scott was removed because he was exhausted. Joe Earley (Mr. Rivets) said: "...as far as I remember, Scott and Boyle were cancelled (and) did not leave of their own volition. In fact I'm sure it was (Channel 3 Program Director) Broza who coaxed Alan to come to Channel 3 to take over for George Skinner. ...Alan may have had a contract to guarantee so much money for a certain length of time to persuade him to leave WCAU, but I wouldn't consider him 'staff.'"
Later, Alan Scott would later re-join the WCAU family after some time with WFIL Radio. He went to WFIL in January of 1958. There, he hosted a show called "Attention Please." Alan became the first entertainment personality to have worked for all three television stations in the city.
Broadcast Pioneers member R. Alan Campbell worked at WFLN, WPBS and hung around at WRCV Radio. Now in Arizona, he e-mails: ...in the late fifties I was a visitor to Alan Scott's WFIL radio studio in the Suburban station building. The idea was to interview celebrities as the came into Center City on the train. They had a street view window and you could see him and guests on the air. We know that Alan Scott was on WFIL Radio from 8 pm until 1 am, daily in September of 1958.
After the introduction of UHF stations, he hosted a business-oriented program on Channel 29 (with Broadcast Pioneers member Dorie Lenz). Like Scott's other ground-breaking programs, this show had a new feature: a live stock market ticker-tape that ran across the bottom of the screen, giving viewers a chance to follow their stocks live. This, too, has become something commonplace in our lives.
During the later years of his life, Scott worked on bringing the new medium of cable television to areas outside the Philadelphia broadcast area. He spent his retirement years doing booth announcing for WCAU.
Broadcast Pioneers member Bill Bransome e-mailed: "One of my first duties at WCAU-AM in 1952 was to introduce the News with Alan Scott, Monday through Friday at 6PM, followed by Sports with Bill Campbell, THIS I BELIEVE with Ed Murrow, and CBS News with Lowell Thomas. Ever heard of Bix Reichner (of Papa Loves Mambo fame)? He was a local songwriter. Among his songs (were)YOU BETTER GO NOW, which was first sung by Alan Scott before he went into the broadcasting business."
George Kebea, a visitor to our website e-mailed: "I remember Alan doing a stock market show daily where he read stock quotes. I believe he had a moustache, a distinguished gentleman." George is right. Alan Scott and Dorie Lenz, a member of the Broadcast Pioneers of Philadelphia hosted an all day (10 am to 4 pm) program called "Market" on Channel 29. That would have been in the late sixties.
Famed radio and TV commentator (and Broadcast Pioneers member) Taylor Grant called Scott "a standard-setter, the man who broke the ground for all news commentators."
"He said what he thought, and he said it beautifully because he loved words," Grant said. "He had that crisp, no-nonsense delivery, and people listened. I mean, they really listened to him. I would say he was about the best in everything he did in broadcasting. He could write, he could direct, and he had no peer in the art of conducting an interview."
On Friday, November 17, 2006, Alan Scott was inducted into "The Broadcast Pioneers of Philadelphia's Hall of Fame."