from: Where to Go and What to Do for Your Entertainment
1954
Let Scott Do It
Popular Alan Scott, host and entertainer deluxe, had no intention of being a television personality. At eighteen, Alan graduated from Philadelphia Normal School and entered the teaching profession. He continued his studies for a full college degree and went to classes after school hours at night, and on Saturdays. After a few thousand hours of study and research he was awarded the degree of Bachelor of Science in Education from the University of Pennsylvania.
He might still be teaching school if it hadn't been for a chance meeting with Stan Lee Broza, founder of the famous Horn and Hardart's Children's Hour, and in 1931 Program Director of a Philadelphia radio station. A group of amateur actors, of which Alan was a member, decided to sell a radio series to one of the stations. Alan went along as spokesman for the group and after talking to Mr.Broza, was startled to hear the Program Director ask, "How'd you like to be a radio announcer?" Alan was shocked. He stuttered and stammered for a minute before he blurted out, "But, I'm a school teacher!"
"Never mind that. How much are you making now?"
"Thirty dollars a week."
"Okay, we'll give you thirty five. You're hired."
And so tall and good looking Scott, today one of Philadelphia television's biggest personalities, went to work on radio in 1931.
It has turned out to be a career that will go down in the annals of radio and television history: a career of a man who with 12 small announcements on his TV show pulled more than 204,000 pieces of mail, a phenomenal record for Philadelphia and for the industry as a whole.
Today, Scott is once again working for Stan Lee Broza, who is now program manager of WPTZ in Philadelphia. But he hasn't always been with Broza.
From Philadelphia radio he went to Chicago and from there he received a commission in the Navy and served during World War II in the Pacific Theatre of operations.
But back to the early days of Scott's career and the early days of radio, too. He worked with a young sports announcer named Paul Douglas, the same Paul Douglas who is now one of Hollywood and Broadway's brightest stars.
"We did some crazy things together in those days," says Scott. Scott was the news commentator and he was followed by Douglas with the sports. The studios weren't air conditioned, and Alan can remember one hot summer day when he and Paul removed their shirts, went into the studio and laid down on top of the huge grand piano to keep cool and do their newscasts at the same time. "Have you ever tried talking lying down?" he asks. Why they weren't fired he still doesn't know.
He left the Philadelphia scene when Carol Irwin (now producer and owner of the "I Remember Mama" series) called him out to Chicago to do an afternoon women's quiz program.
When he arrived in the Windy City he went immediately to the studios and offices of Mutual affiliate WGN. He walked in and announced his arrival to the WGN receptionist. She greeted him and took him around the station and the town. In fact they went around pretty steadily ("We had 380 dates in one year's time; two or three sometimes on weekends," says Scott), and today Maralene Bielen is Mrs. Scott.
During his stay in Chicago he won for himself thousands of fans and many close friends, including the late Mayor of the Windy City, Edward Kelly. Then the war came. Kelly, so impressed with Alan's expert newscasting and analysis, appointed him Deputy Director of Civil Defense for the Chicago metropolitan area.
But soon Alan got restless. As his two happy years with "Beam" in Chicago came to an end he was commissioned a Lieutenant J.G. in the United States Navy. Before you could say "Now here this . . ." Alan was on his way to the Pacific Theatre of Operations.
Alan wasn't one for continuing his romance with his wife by letters only. Before he left for overseas duty he made arrangements with a flower shop to deliver a corsage to his wife every Sunday morning so she could wear it to church. When he found out that their first baby was on its way, he wrote home to the florist and added to the weekly order a boutineer or miniature corsage "for the little one."
When he returned from overseas, he went to the flower shop to settle with his bill, which by this time was rather extensive. To his surprise, he discovered that Mrs. Kelly, wife of the late Mayor, had already settled the account.
During his career in the Navy he met and worked with Ernie Pyle. "In fact it was our ship that carried Ernie to Iwo Jima, the island on which he was killed only two hours after we dropped him from 'The Panamint'," recalls Scott. Alan remembers Pyle for his "gentleness." "He was easy going and interested in everyone," he says.
Scott was in on the invasion of Okinawa, and in fact helped in the broadcast of the surrender proceedings at Ominato Harbor in September, 1945.
Following the war Alan returned to his wife, new small son, and a career in the entertainment world.
Starting in New York, he was featured on the NBC TV coast to coast telecasts of "American Inventory" and "NBC Television Screen Magazine." The latter was the first magazine type TV show. "You could have called me the poor man's Arlene Francis," says Scott.
Following his Mutual network radio show, "Once Over Lightly," he was called to Philadelphia. First there was a stint in radio, then he went to TV . . . and finally Stan Lee Broza tapped him for the morning ladies' show on WPTZ.
Thus "Let Scott Do It" was born. This is the program that presents morning entertainment for mother and the children. The show features "Mr. Rivets," a mechanical man; "Miss Terry," a little two year old girl who has been seen on the show since she was seven months old; and the irresistible charm and patter of host conversationalist Alan Scott.
Decide to Build Their Own Home
Beam and Alan decided two years ago that they should build a home. They didn't want just "any" house. Beam had her own specifications. So Beam and Alan took out paper, pencil, and rulers and went to work drawing up plans for their dream house. They worked without benefit of an architect and finally called in the builder.
This is the house that they are living in now in the suburbs of the Quaker City with their two sons, Jeffrey Joel, age nine, and Jonathan David, two.
It is named "Back Acres," and as Scott says you could spell that last word two ways if you wanted to. "We had all the major and minor disappointments that go along with building your own home . . . but we love it," says Beam.
During all of his career Alan hasn't forgotten his love for amateur dramatics. He's still acting with little theatre groups. One of his latest productions was with the Penn Wynn Players, when he appeared as Father in "Life with Father." Along with him in the cast was his oldest son, Jeff, who played one of the five Day children.
And in fact that man Broza, who on a hunch gave Alan a job, is still looking for newcomers to radio and TV via the "Children's Hour." When Alan's son Jeff was two years old he appeared on Broza's show during a special Flag Day program and recited the Pledge of Allegiance to the old Stars and Stripes of the U.S.A.
Alan's love for children shows up on his TV shows and in his private life. "There's nothing like 'em;" says the ex school teacher.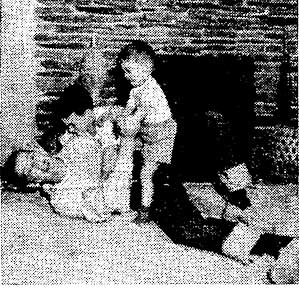 And so it is that the shy little boy who during his school days purposefully didn't get 100% on his spelling, papers so he wouldn't have to go up in front of the school assembly and receive an award, is entertaining some seven million people within the WPTZ coverage area of Pennsylvania, New Jersey, Maryland and Delaware.