The Daily Record, Stroudsburg-East Stroudsburg, PA
Thursday, August 4, 1955
'Mr. Rivets' Show Filmed For Television At Waterfront Farm Near Marshall Creek
By Leonard Randolph
You want to know what happens when a television star shows up on a nice, normal, routine afternoon?
I'll tell you. All heck breaks loose.
Take yesterday for example. Word got around pretty early that Alan Scott, head man on a morning show on Philadelphia's WPTZ was going to film part of his "Mr. Rivets" show at Waterfront Farm near Marshall Creek.
By 2 pm when Scott and his mechanical man were supposed to arrive at Waterfront Farm I drove, my ancient station wagon in, parked along the side of the road and got out.
There were roughly 50 children (I would call 'em lids, but someone who's a stickler for the King's English is always kicking up a rumpus about goats when you do) on the Waterfront lawn.
Children Wait Arrival
Some of them were playing with the ponies near the barn. Some of the others were looking for soda pop. Some of them kept running over to the roadway to look for Mr. Rivets.
Most of them had one or more parents in tow. The parents seemed to be enjoying themselves as much as their offspring. One or two of them even looked as though they might be enjoying themselves more.
Since newspaper people work nights (on morning papers) and seldom see the light of television before noon or so, I'm afraid we'll have to count me as one of the uninitiated. I had no idea what sort of guy this Scott might be, so, I decided to ask around.
Look, I says to an intelligent looking young boy of about seven standing near a tree, what's this Mr. Rivets like?
In the manner children reserve for their plodding elders the boy turned and said: He's funny.
Boy Answers
He turned back to the tree. Another man, standing nearby, spoke up, rather ill advisedly it turned. Well, he says, what makes him funny?
The boy fixed this innocent bystander with a gaze you might imagine someone giving to a soggy pork chop left over from lunch three days before. What makes anything funny? he asked.
The man laughed nervously and, moved away. Adjusting the press camera in my left hand, so did I. It was obvious we had reached an impasse here.
Scott's two young boys were already at the Waterfront and every now and must be a half a dozen of them, but finally a couple of other Stroudsburg residents and I decided there really only two.
It was about half an hour later when a red and black convertible pulled in and somebody yelled: Here comes Mr. Rivets. This, it developed, was a trifle premature. Alan Scott was in the car. So were some other people from WPTZ including Mary Wilson and Marie Minnick and a young man named Lou whose last name got swallowed up in a chorus of childish yells when we were introduced. But Mr. Rivets was nowhere in sight.
Mr. Rivets Appears
He came out later from behind the big barn at the farm after most of the children had been detoured off to the tennis court in back. They shot some scenes for the show as soon as Mr. Rivets came around.
Ralph Lopatin was the cameraman on the job and he kept hoisting his camera up and shooting a scene and then setting up the next one. Mr. Rivets, I may as well tell you, looked just like his name--metal suit, square head and rivets to boot. He was a mighty impressive figure, walking along through the barnyard in that shiny suit with the brass coil and the bleak, unblinking eyes, his lips curled upward in a benevolent grin.
A little later on it turned out that the grin must not have been s o kindly as everyone thought. When we got down to the tennis court one boy of about five on six took one look at him and busted out in the busiest hog callin' scream I've heard in a long, long time.
It took both of his mother's arms and a lot of hushes from the circle of boys and girls to calm him down. Even then he kept looking over toward Mr. Rivets with a wall-eyed stare occasionally, maybe because he'd seen the same kind of invention in some science fiction book or movie recently.
Loves Children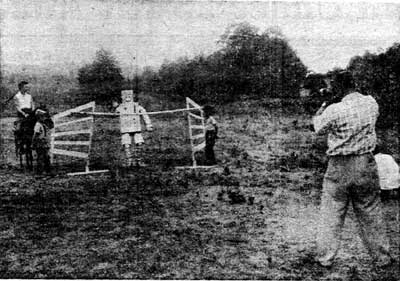 Mr. Rivets, Scott hurriedly assured everyone, just loved children and he would never, never hurt any of them. But, he said after a bit, it would be a little better if everyone didn't try to shake hands with Mr. Rivets because it was very tiring on his motor and maybe the motor might even run down. When Scott pushed a button on the front to shut off the motor and let Mr. Rivets cool down a bit, there was a quality of relief which I can only describe as human in the way in which the mechanical man folded his hands and rested for a time.
From that point on the WPTZ crew went right straight into film¬ing the show. For the most part they used their regular cast and the children from the neighborhood who were standing and sitting around. There was a pony show, for example, which the Lesoine and the Yetter and the Reid youngsters put on every summer about this time. It was pretty hot in the afternoon and it was a wonder nobody got irritated but I didn't hear any childish voices saying: Mommy, I want to go home. This Mr. Rivets sure has something in that department, I think.
Pointed Question
Along about the time I was ready to take off, I had a brief chat with another small fry near the tennis court fence. This time he was the one who struck up the conversation. Though. You a photographer? he asked and when I nodded and said Yes, he went right on. Who fer? he asked.
The Daily Record, I said. Whatcha doin' here? he asked. Taking a picture of Mr. Rivets, I answered. Why dontcha get it offa the TV, he asked. Because we don't have a TV, I said.
There was a dull silence.
Gee, you must be pretty poor, he said.
It wasn't a question. It was a statement. And that was the end of that.