A Close up of
Alan Scott
from Your Video Guide magazine (date unknown)
The boy who at 13 years of age made his first broadcast to "his public" through the use of a hand made cats' whiskers radio set constructed with the use of paper clips and an oatmeal box never realized that the medium of radio and television would one day be his bread and butter.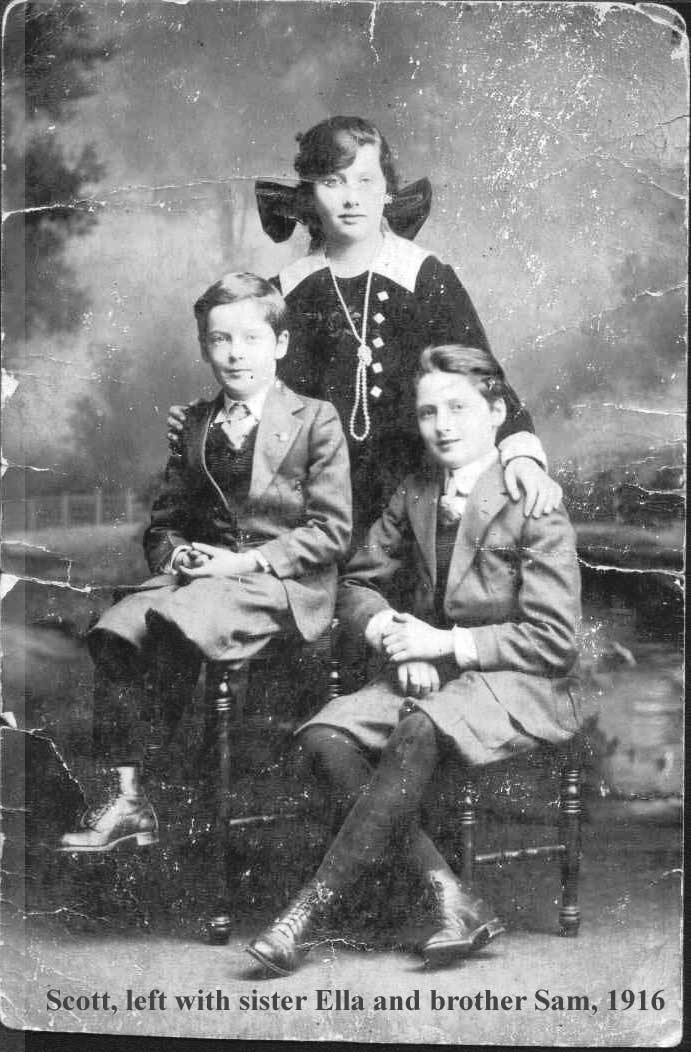 During the Dempsey Firpo fight of September 14, 1923, Alan Scott, star of WPTZ's "Let Scott Do It" show, and his brother were sharing a set of ear phones and listening to the fight. Out on their family's front porch was a group of fellow youngsters and sonic parents, too. Between each round Alan would put down his ear phones, run to the porch of their Philadelphia home, and "broadcast" the results.
Alan had no intention of being a broadcaster. When he finished high school as president of his class and an honor student, he went into training immediately to be a school teacher. At 18, when he graduated from the Philadelphia Normal School, he entered the teaching profession.
During the days of his teaching career, Alan was studying for a full college degree. He went to classes after school hours, at night, and on Saturdays. After a few thousand hours of study and research he was awarded the degree of Bachelor of Science in Education from the University of Pennsylvania.
He might still be teaching school if it hadn't been for a chance meeting during the Easter vacation of 1931 with Stan Lee Broza, founder of the famous Horn and Hardart's Children's Hour and then program director of a Philadelphia radio station.
"Or maybe even be superintendent of schools," recalls Alan. "That's what my father told me I was giving up when I announced I was leaving teaching to become a radio announcer."
One rainy day during that fateful Easter recess Alan, along with a group of amateur actors of which he was a member, were trying to sell a radio series to a local radio station. "We started with the biggest station in town," recalls Alan. "I've always believed in aiming high." They went to the radio station and asked to see the program director. It was Broza. After waiting an hour, Alan, as the spokesman, was ushered into Broza's office, sat down, and began telling him about their idea. "Immediately I knew he wasn't listening. But I kept on talking," says Alan. Finally Broza stopped him. He looked at him and then said, "I've got a hunch, young man. How'd you like to be a radio announcer?"
Alan was shocked. He stuttered and stammered for a minute and blurted forth, "But, I'm a school teacher!"
"Never mind that. How'd you like to be an announcer?"
"Well, you see I've…"
"Come on, let's go have an audition."
Following that audition ("It was all about music, with lots of hard names to pronounce. Fortunately, I knew music so I got through it," says Alan), Broza offered him a job with the question, "How much are you making now?"
"Thirty dollars a week."
"Okay, we'll give you thirty five. You're hired."
And so tall and good looking Scott, today one of Philadelphia television's biggest personalities, went to work in radio.
It has turned out to be a career that will go down in the annals of radio and television history: a career of a man who with 12 small announcements on his TV show pulled more than 204,000 pieces of mail, a phenomenal record for Philadelphia and for the industry as a whole.
Today, Scott is once again working for Stan Lee Broza, who is now program manager of WPTZ in Philadelphia. But he hasn't always been with Broza.
From Philadelphia radio he went to Chicago and from there he received a commission in the Navy and served during World War II in the Pacific Theatre of Operations.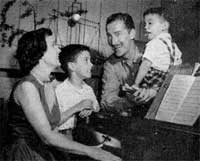 But back to the early days of Scott's career and the early days of radio, too. He worked with a young sports announcer named Paul Douglas, the same Paul Douglas who is now one of Hollywood and Broadway's brightest stars.
This piece was here marked as "continued next week," however the rest has been lost.